Chromate Conversion Services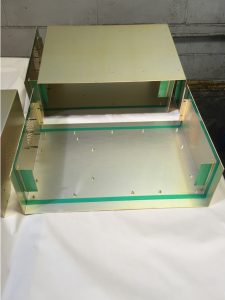 Ace Anodizing's expert chromate conversion services are highly automated, which gives us the ability to deliver fast turnarounds that meet your demanding production scheduling needs. Our facility houses large rack tanks capable of immersing parts up to 24′ long x 38″ wide x 60″ height and weighing up to 2,500 pounds. Chromate conversion is an inexpensive way to impart increased corrosion resistance and provide a good bonding surface for paint and adhesives to parts such as electronic components, heat sinks, electrical cabinet interiors, or any product fabricated from aluminum and aluminum alloys. An additional benefit is that the parts retain their electrically conductive properties.
We offer an RoHS-compliant clear trivalent chromium process that is free from hexavalent chromium and complies with the requirements of MIL-DTL-5541F Class 3.
We also offer the more traditional process for gold and yellow MIL-DTL-5541F Class 1A requirements. Whatever your needs, Ace Anodizing will consult with you to ensure that the right process is selected. Our full service facility also offers a range of post-treatment operations, including painting, powder coating, and anodizing, giving you a single-source solution to your part finishing needs.
To learn more about our chromate conversion services read below, or contact Ace Anodizing today.
Portfolios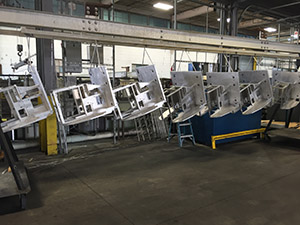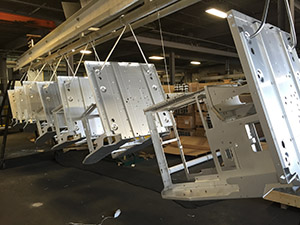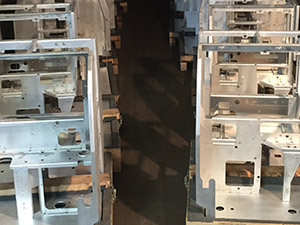 Chromate Conversion Capabilities
Chromate Conversion Processes
Immersion
Equipment
Rack Tanks
Curing
Drying
Automation Capabilities
Conveyors
Manual
Post-Plate Operations
Painting
Powder Coating
Anodizing
Plating
Substrate
Aluminum
Aluminum Alloys
Die Castings
Colors
Gold/Yellow Class 1
Clear (RoHS) Class 3
Light Iridescent
Types
Alodine
Iridite
Yellow Chromate
Plating Characteristics
Self-Healing
Undercoat
Electrically Conductive
Benefits
Increased Corrosion Resistance
Good Bonding Surface for Paint & Adhesives
Inexpensive
Part Length
Up to 24 ft
Part Width
Up to 38 in
Part Height
Up to 60 in
Part Weight
Up to 2500 lb
Testing Ability
Visual
Additional Services
Masking (Stock and Custom)
Tooling
Consulting
Design Assistance
Sampling
On-Site Tooling Fabrication
Brushing
Polishing
Blasting
Silk Screening
Pad Printing
Laser Part Marking
Proto Type
Sample processing
Pick Up and Delivery
In House Tooling Fabrication
Lab
Production Volume
Prototype to Production
Typical Lead Time
3 to 7 days
Rush Services Available
Intended Application
Fabrications
Extrusions
Die Castings
Heat Sinks
Electronic Components
Interior Electrical Cabinets
Industry Focus
Medical
Aerospace
Commercial
Recreational
Industrial
Electrical
Industry Standards
ISO 9001:2008 Certified
AAMA 2603, 2604, & 2605 Certified
TCP
WEEE
RoHS
MIL-DTL-5541F Class 1A
MIL-DTL-5541F Class 3
File Formats
PDF